Posted under Fertility Treatment

by

Dr. Suchetana Sengupta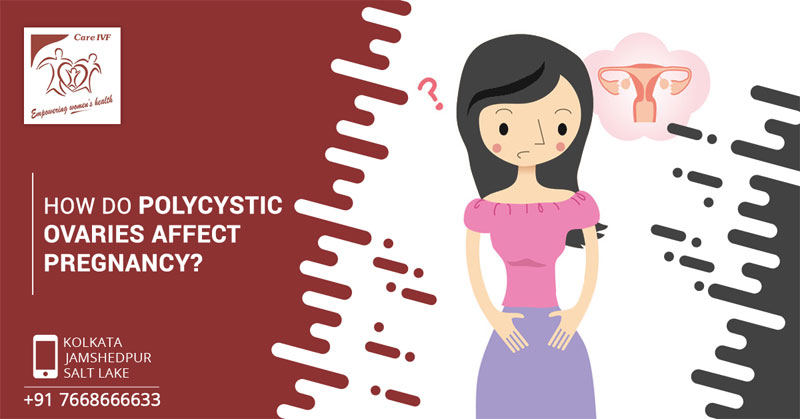 How do Polycystic Ovaries Affect Pregnancy?
Pregnancy is a wonderful aspect of a woman's life. Nurturing a life in your womb is one of the best feelings ever. But many women might be barred from this feeling due to a chronic disease called Polycystic Ovarian Syndrome. One out of ten women in the world suffers from PCOS.

If you are trying to conceive with PCOS then regular consultation with a good obstetrician is advised. Otherwise, this might cause severe complications and even result in the death of the infant during or after delivery.
Polycystic Ovary Syndrome may result in multiple complications during pregnancy. Let's take a look:
It might cause miscarriage
Women with PCOS are at a greater risk of miscarriage as compared to women without PCOS.
It results in gestational diabetes
Pregnant women with PCOS often suffer from Gestational diabetes. As a result of this condition, the babies born to such mothers are larger than normal and may have low blood sugar levels.
The baby might also suffer from breathing troubles. Both the mother and the baby, in this case, have a greater risk of developing Type 2 diabetes later in their life.
Conceiving with PCOS may cause Preeclampsia
This is a condition where the mother suffers from high blood pressure during the 20th week of pregnancy. This condition can affect the kidneys, liver and brain of the pregnant mother. If left untreated, it can cause Eclampsia, resulting in seizures, organ damage, and even death.
Pregnancy-induced high blood pressure
Mothers with Polycystic Ovarian Syndrome usually suffer from this condition during the second half of their pregnancy. If not addressed properly, it can cause Preeclampsia and other complications during delivery.
Preterm birth/ very preterm birth
If an infant is born prior to 37 weeks of maturity then that's called a preterm birth. Such infants are prone to very serious health complications after birth and later in life.
Neonatal problems
PCOS patients are more likely to deliver larger than gestational age baby, meconium aspiration in neonates, babies tend to have low APGAR score after birth.
Obesity associated with PCOS also causes obesity related problems during pregnancy.
Tips for trying to conceive with PCOS
If you are trying to conceive with PCOS then consulting an infertility specialist is advised for avoiding serious health complications.
Proper guidance and care is the only way to have a successful pregnancy and delivery. You may get in touch with our experts for any help. Call us at +91 7668666633 or visit www.careivfkolkata.com/member/register for more details.

Article Tags
About the author

---