Posted under Fertility Treatment

by

Dr. Rajeev Agarwal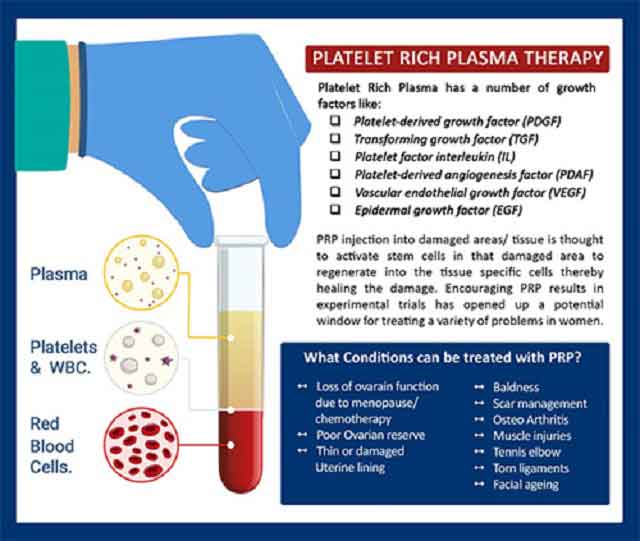 PRP therapy is giving hope to couples advised for Egg donation to conceive with their own eggs
What is PRP?
PRP or Platelet Rich Plasma is an extract from the blood which has a concentrate of Platelets and other Growth factors which help in clotting and healing.
What are Platelets?
Platelets are cells, contained in blood, that are primarily responsible for clotting of blood and secondarily help in healing the tissues after an injury. They also act as store houses for energy and growth factors. They have 2 types of stores:
>Dense Granules : which store Adenosine triphosphate, Adenosine diphosphate, Serotonin and Calcium.
Alpha Granules : which may contain Mesenchymal stem cells, Cytokines, Vascular endothelial growth factors, Transforming growth factor and many more such.
PRP therapy harnesses the rejuvenating or wound healing property of the Platelets in the blood to induce healing in uterus lining and ovaries. Platelet rich Plasma or PRP is extracted from the person's own blood through a simple procedure and has been in used to induce healing or restoration of cells and tissues in sport injuries, arthritis, and Anti-Ageing and Hair loss. In the recent years many studies conducted in Europe have proven that the rejuvenate power of the PRP can also help revive ovarian function allowing post-menopausal women to conceive using their own eggs. When injected into the ovaries, it restarted menstruation in these women, allowing the doctors to collect the eggs and fertilize them.
About the author

The author,
Dr. Rajeev Agarwal
is a Fertility Consultant at Care IVF Kolkata. For an appointment with the doctor, call +91-33-66-398-600. You can also book a
Skype Consultation
here.
---
Tags