Posted under Fertility Treatment

by

Dr. Suchetana Sengupta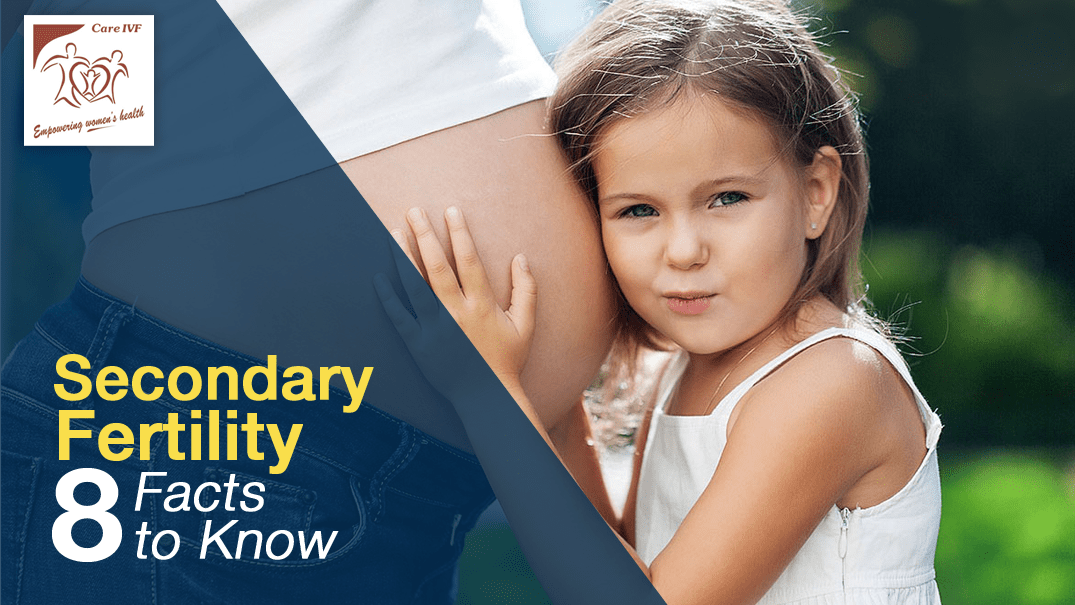 Secondary Infertility - 8 Facts to Know
Secondary fertility is when a woman cannot get pregnant or isn't capable of carrying a pregnancy to term after she has given birth to one or more biological children. This is a medical issue and there can be multiple factors responsible for this.

Let's Explore a Few Facts on Secondary Infertility:
Secondary Infertility can be caused by multiple factors, affecting female or male both. This includes:


A weakened sperm production or function in men.
Damaged fallopian tube, endometriosis, problems in ovulation and other uterine conditions in women.
Complications from any previous childbirth or any other kind of pelvic surgery.
Risk factors related to the age, weight, and specific medical conditions of the partner.

Age is a major factor in secondary infertility. At the age of 25, fertility is at its peak in women. It drops by almost half between ages 35-40 years. Moreover, with age, the quality of eggs decline and many women are prone to develop gynaecological issues such as endometriosis/fibroids/polyps/hormonal imbalance in further course of time. These factors often cause secondary infertility.
Male factors comprise of functional ability of the sperm. It can be affected due to many factors such as environmental (excess exposure to heat, exposure to toxic fumes, lifestyle habits – alcohol consumption, smoking, tobacco chewing.)
If you have been trying for another child for quite a few years and cannot conceive, then it's important that you seek medical help from your fertility specialist. After an year of unprotected sex if you have not conceived (in case you are younger than 35 years) of after six months (in case you are older than 35 years) then immediately consult a fertility specialist.
The doctor will evaluate your and your partner on the basis of fertility related tests and depending on the diagnosis will offer treatment options.
A. EVALUATION OF FEMALE PARTNER:
HISTORY OF ABORTIONS BEFORE OR AFTER DELIVERY
ANY COMPLICATIONS ASSOCIATED WITH PREVIOUS PREGNANCY
BASELINE PELVIC SCAN – ANTRAL FOLLICLE COUNT
ANTI MULLERIAN HORMONE
TUBAL PATENCY (HYCOSY/ HSG)
ASSOCIATED GYNAECOLOGICAL PROBLEM/ SURGERY (PCOS/ ENDOMETRIOSIS/ PELVIC SURGERY/PELVIC TUBERCULOSIS)
ANY ASSOCIATED CO-MORBID CONDITION. (DM /HTN / ETC.)
B. EVALUATION OF MALE PARTNER
SEMEN ANALYSIS
SEMEN CULTURE SENSITIVITY
FUNCTIONAL TESTS FOR SPERMS
ANY HISTORY OF ACCIDENT/ TESTICULAR SURGERY
EJACULTION/ ERECTION DYSFUNCTION
ANY ASSOCIATED CO-MORBID CONDITION (DM/HTN)
C. REATMENT OPTIONS
PLANNED RELATIONS/ IUI – ALL NORMAL REPORTS AND LESS THAN 35 YEARS OF AGE.
IVF – >35 YEARS/ TUBAL BLOCK/ ASSOCIATED GYNAECOLOGICAL PROBLEM/ LOW AMH AND AFC
ICSI – LOW MOTILITY AND COUNT IN SEMEN ANALYSIS (MALE FACTOR)
(For ICSI, the doctor may collect sperm from the male partner. The sperm is first evaluated for any genetic conditions that might affect the child. Doctors often suggest men who have low or zero sperm count (in those who do not have any blockage that prevents ejaculation of sperm) to have a genetic testing before opting for ICSI for infertility.)
PGS/PGD WILL BE ADVISED IF ANY HISTORY OF MULTIPLE ABORTIONS/ ABNORNAL BABY/ ASSOCIATED CHROMOSOMAL DISORDER.
OVERVIEW OF AN IVF/ICSI CYCLE
FEMALE PARTNER will need to take gonadotropin injections for stimulating your ovaries to produce multiple eggs. This is done for 2 weeks before the treatment. The doctor will closely monitor you, check estrogen levels, perform repeated ultrasound for checking growth and maturity of follicles.. If they are developed, the doctor will give you human chronionic gonadotropin injection for ensuring maturity of the oocyte inside the follicle.
Egg collection is performed, one single sperm is injected in the egg. The egg is then cultured and once they are fertilised, it is put into the uterus.
If you are having issues with fertility and considering ICSI infertility treatment, you may get in touch with us at +91 766-866-6633.
Article Tags
About the author

---